Magnetic Labels
Magnetic Labels are the first choice for chilled and freezer environments or where locations move regularly.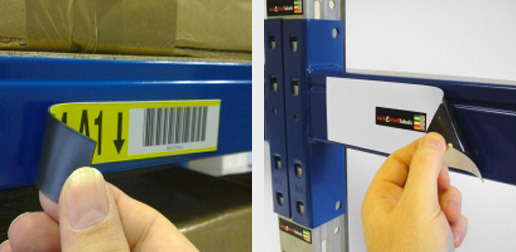 Magnetic Labels are typically chosen for chilled or frozen storage facilities where adhesive can fail. They are also an option for customers looking for a flexible labelling solution, as these labels can be easily moved and taken to a different location in the warehouse.
Magnetic Labels undergo a double production process; first of all the label is produced on polyester sheets which are then laid onto strong magnetic material, cut to size and finished.
The magnetic material used to create our magnetic labels is highly flexible and can be applied to any ferrous metal including carbon steel, alloy steel, stainless steel, tool steel, HSLA steel and iron based super alloys. Magnetic labels will not fix to aluminium, beryllium, copper, magnesium, nickel, refractory metals, titanium or zirconium.
All of our magnetic labels are designed by our in-house production team to suit all exact requirements of the warehouse where they will be installed.
The design options for our magnetic labels include:
Alpha/numeric eye readable locations
Barcodes
Check digits
Arrows
Colour coding
QR codes
Logos
All of our magnetic labels come with the reassurance of a 15 year guarantee in normal use.
We also supply blank magnetic labels with dry wipe coatings. These are a highly popular option for customers requiring the flexibility to frequently change and identify locations by product name or serial number. They are available to purchase from our on-line store:
Blank Magnetic Labels – Rack & Shelf Labels (UK) Limited (rackandshelfshop.co.uk)
Other warehouse labelling solutions:
Get in touch for more information or to request a quotation please call our team on 01925 812 817 to discuss your labelling needs.
Need A Quote?
Get In Touch Today