Hanging Signs
Hanging signs are a highly popular and secure method of identifying floor locations from a distance.

We design and install hanging sign systems for customers throughout the UK in all types of distribution facilities.
A hanging sign clearly identifies floor locations at distance. Once fitted, hanging signs are safe from impact, dirt and debris which can cause problems for other types of floor identification such as floor labels.
There are a number of hanging options available, all of which will be reviewed when we discuss the requirement in detail, or during a site survey. We will  consider the weight of the sign, the effect on an alarm network or sprinkler system and it will clarify scanning verification.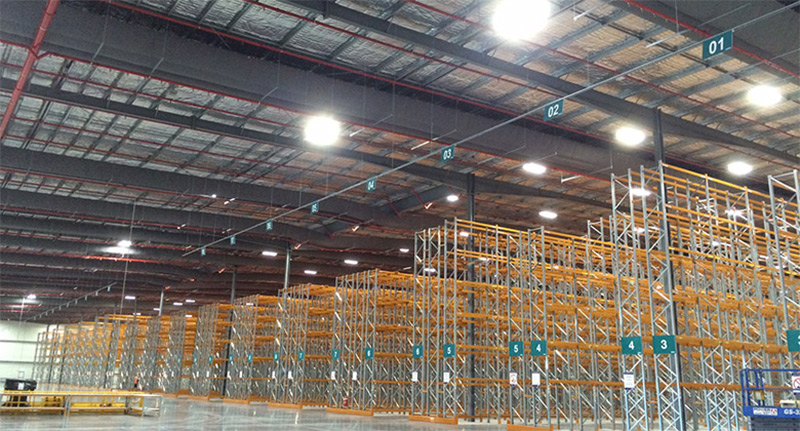 Suspended Hanging Sign Solutions
Our Hanging Signs are manufactured from rigid plastic and durable base materials to ensure they maintain their form over their lifetime.
We are able to adapt hanging signs based on individual requirements.
Design options include:
Graphics
Alpha/numeric data
Barcodes
QR codes
Retro reflective barcodes
Logos
Other image based designs to help with easy identification
We use industry recognised fixing mechanisms to ensure all of our hanging signs are suspended safely. Our commitment to quality assures you of our delivery of  a safe and robust product.
Hanging Sign Installations
Our in-house installations team are experienced in working on time critical and commercially sensitive projects. We are equipped with the correct licenses, knowledge and training to install your hanging signs safely and professionally.
For more information on our hanging sign solutions and installation services, or for a quotation, please call the team on 01925 812 817 or get in touch via the website. We're here to help.
Need A Quote?
Get In Touch Today