Rack Load Notices
Rack Load Notices are an essential safety sign that attach to racking and shelving to advise of load capabilities.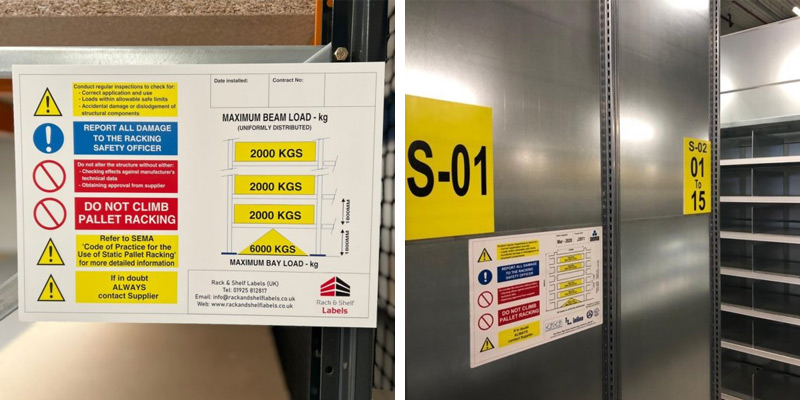 Our signs are manufactured from lightweight materials that are both highly durable and cost-effective.
Rack Load Notices are supplied either A3 or A4 and are presented in landscape or portrait to suit your needs. You can add company or relevant SEMA logos for no additional cost (customers must be SEMA accredited to include their logo). Sign fixings can either be by adhesive, bolts or tech screws.
We recommend positioning load notice signs high enough for forklift truck drivers to read whilst in the cab, and within the profile or frame structure for added protection.
We always work with our customers to ensure they have all of the required information, in a format that works best for them.
Load Notice Signs
Load notices are a requirement of the Storage Equipment Manufacturers' Association (SEMA) who work closely with manufacturers of storage equipment and the Health & Safety Executive to monitor, improve and advise on health and safety in warehouse and distribution centres.
SEMA provide 13 basic templates which represent various rack and shelf storage arrangements. We use these templates to create load notices for our customers with specific details. We can also produce unique load notices for customers who have designs that differ from the SEMA template.
Get in touch for more information or call us on 01925 812 817 to discuss your load notice requirements.
Need A Quote?
Get In Touch Today