End of Aisle Signs
End of Aisle Signs (also often called Aisle Markers)  are used in many of the UK's busiest distribution centres to clearly define aisles amongst the racking for a smooth operation.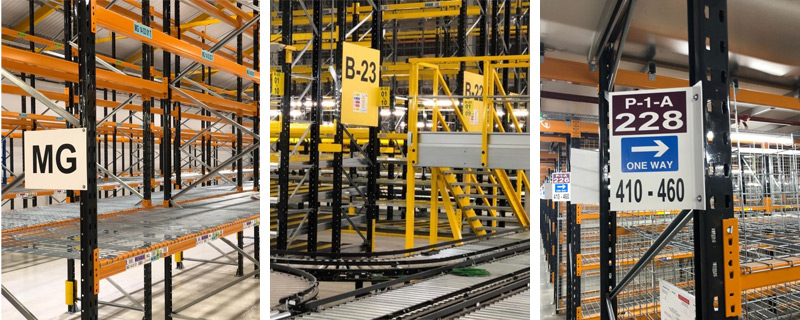 Our End of Aisle Signs are designed to compliment your warehouse layout and labelling systems.
We design, manufacture and install (where required) End of Aisle Signs in-house using a range of materials depending upon the sign size and environment that the signage will be working in.
They can be made in a variety of sizes, either landscape or portrait, they can be flat against the racking/shelving, angled, or double faced and can be produced in colour or monochrome.
Our End of Aisle Signs are available with the following design options:
Alpha, numeric or alpha-numeric location details
Arrows
Barcodes
QR codes
Check digits
Company logos
Label holders
End of Aisle Sign Installations
Our flexible approach gives customers confidence that we can advise on the best signage format to suit their warehouse. We can either provide the signs for you to install or you can use our skilled aisle marker installation team.
For more information about end of aisle marker solutions, or for a quotation, please call the team on 01925 812 817 or get in touch via the website.
Need A Quote?
Get In Touch Today